Rob Peacock is a Certified Fund Raising Executive with over 30 years of fundraising experience.
For the past 16 years, Rob has served as CEO of Peacock Philanthropic Counsel Inc., providing strategic counsel to more than 80 charities in Canada. Previously, Rob fulfilled a number of senior development and leadership roles at Habitat for Humanity Canada, Junior Achievement of Canada Foundation, PC Canada Fund, Mt. Sinai Hospital Foundation, the University of Toronto, and Ryerson University.
Rob is Past Chair of the Association of Fundraising Professionals in Canada, and served on the Provincial Board of the Ontario Trillium Foundation.
Rob holds a Masters degree in Philanthropy and is a faculty member for the Masters in Philanthropy and Nonprofit Leadership at Carleton University, Canada's first Masters program in Philanthropy, where he also sits on the Advisory Committee.
Rob was recently a visitor in residence of the Institute for Corporate Directors Not-For-Profit Governance Essentials Program at the Rotman School of Management.
PUBLICATIONS
He has authored two books: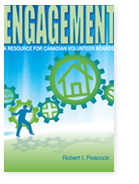 Engagement:
A Resource for
Volunteer Boards
ORDER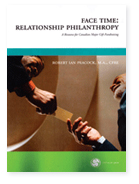 Face Time:
Relationship
Philanthropy
ORDER
LATEST ARTICLES
VIEW MORE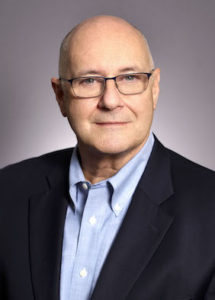 Rob Peacock, MA, CFRE
416-625-2801
rob@peacockinc.ca